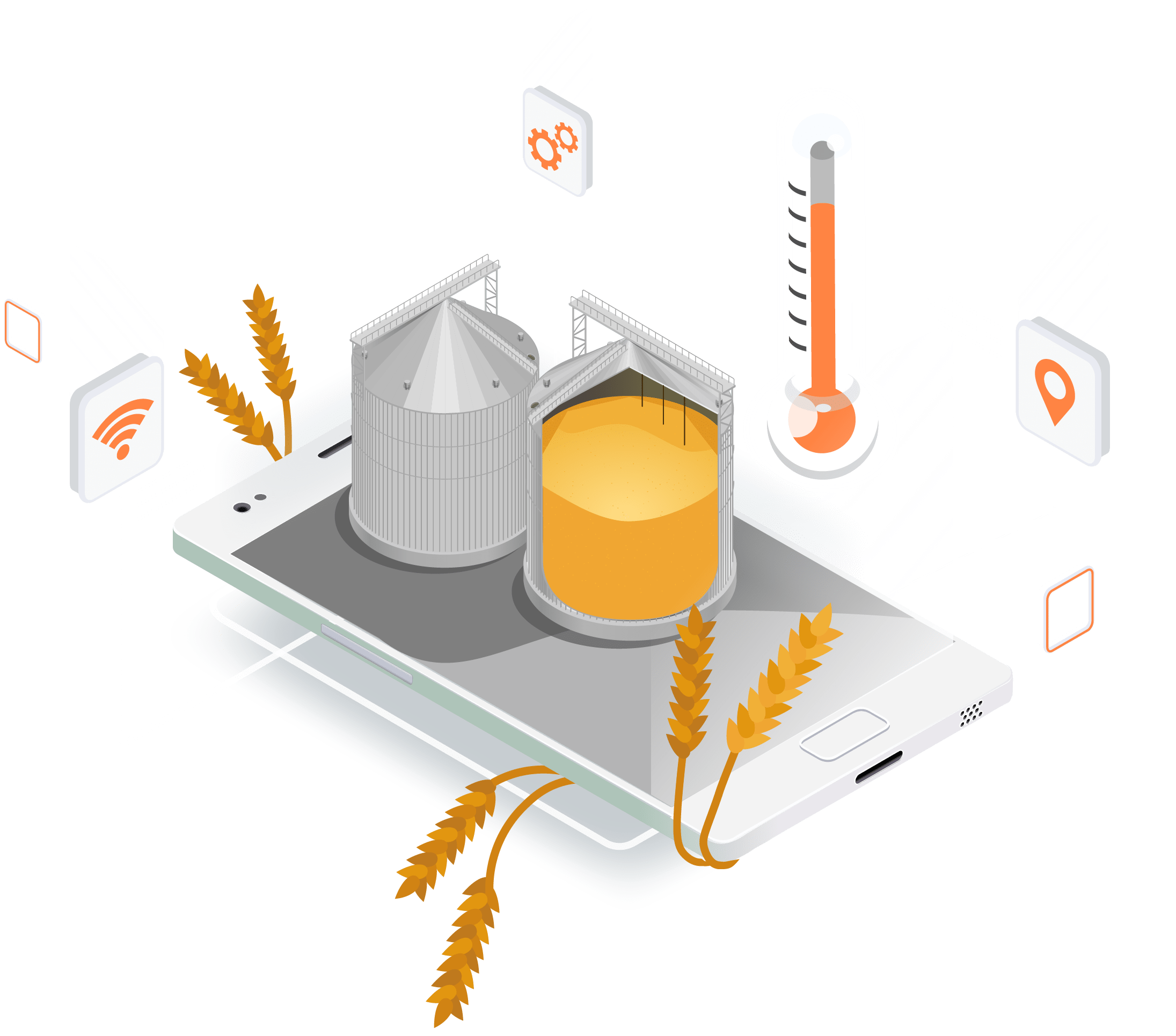 Grain temperature monitoring and control
Save your time and money while protecting stored grain.
Don't rely on luck alone!
---
Our temperature monitoring system allows to monitor the condition of grain from anywhere in the world, reduce the likelihood of maintenance errors, react quickly to any changes that have occurred in your warehouse.
Storing grains, vegetables and fruits, hay and other agriculture is a major challenge to maintain their high quality.
Automated wireless system will enable constant temperature monitoring of stored products allowing prevention of overheat, pests, mold and fungus. The innovative solution simplifies daily tasks required to protect stored goods, reduces possibility of human error, enables status tracking from anywhere in the world, and provides tools to take action when necessary.
Quality - Monitoring products and ensuring their quality will be easy from now. Less spoiled products - higher profits.
Economy - The system will help to reduce electricity costs. By monitoring the temperature, you will be able to turn on ventilation only when needed.
Reliability - All the data is stored. You can re-view it, or visualize in graph at any time for any selected period.
Flexibility - You'll be able to monitor your warehouses from anywhere in the world. The app works on all devices: computers, tablets, mobile phones.
Be calm!
Constant monitoring and controlling of your stored products will guarantee no unpleasant surprises regarding the quality.
Be innovative!
Thanks to our system, you will be able to collect data which helps to optimize your workflow, avoid mistakes and, most importantly, reduce costs.
Be flexible!
Our modern system will help you monitor the condition of stored grain wherever you are and immediately inform about possible threats.
Be unique!
We will take into account your personal situation and specific needs, together we will find the most suitable solution for you.
Our products
Portable grain temperature probes for storages
Portable, wireless system designed for heaps, granaries and other above-ground grain storages. Suitable for indoor and outdoor use.
More info
Wireless grain temperature monitoring system for silos
Autonomous, wireless system designed to monitor the temperature of grain stored in silos. Can be powered by solar energy to work indefinitely.
More info
Companies who trust us and use our production